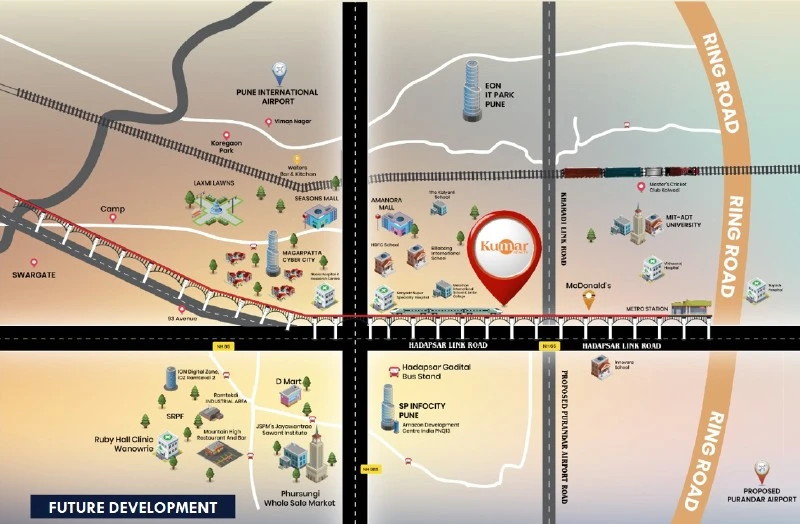 Kumar City is an upcoming residential project that promises to redefine the concept of modern living. Developed by Kumar Properties, a renowned and trusted name in the real estate industry, this township offers a perfect blend of apartments and plots catering to homebuyers' diverse needs and preferences. With its strategic location in Manjri, East Pune, the Kumar City location aims to provide a pleasant living experience amidst nature's serenity. Spread across a vast land area of 140 acres, Kumar City is a prelaunch project with immense potential for future residents. The project offers a variety of unity types, including 1, 2, and 3 BHK apartments, as well as plots for those who prefer to build their dream homes from scratch. This diverse range of options ensures that every homebuyer can find a space that suits their requirements and preferences.
One of the key factors that set Kumar City Pune apart is its prime location in Manjri, East Pune. Manjri is a rapidly developing area that perfectly balances urban convenience and natural beauty. The location provides easy accessibility to Pune's major IT hubs and commercial zones, making it an ideal choice for working professionals and families. Additionally, the proximity to renowned educational institutions, healthcare facilities, shopping centers, and entertainment zones ensures that residents have everything they need within reach.
The Kumar City address is a testament to its strategic location. Situated in Manjri, Pune, this township enjoys excellent connectivity to the rest of the city. The project is well-connected to major arterial roads, including the Pune-Solapur Highway, the Hadapsar-Saswad Road, and the Pune-Bangalore Highway. The presence of reliable public transportation and easy access to the Pune Railway Station and Pune International Airport further enhance the project's connectivity quotient. In addition to its convenient location, Kumar City Manjri boasts many amenities and facilities. The township is designed to offer a self-sustained ecosystem that prioritizes residents' comfort and well-being. From landscaped gardens, jogging tracks, and children's play areas to a well-equipped clubhouse, swimming pool, and gymnasium, the Kumar City address provides a wide range of recreational and fitness options for residents of all ages. Safety and security are essential in Kumar City. The project has advanced security features, including 24/7 surveillance, CCTV cameras, and well-trained security personnel, ensuring a secure and peaceful living environment for all residents. Additionally, the project incorporates sustainable and eco-friendly practices, such as rainwater harvesting and waste management, promoting a greener lifestyle.
Kumar Properties, the esteemed builder behind Kumar City, has a proven record of delivering quality projects that exceed customer expectations. With their commitment to excellence, attention to detail, and customer-centric approach, Kumar Properties ensures that every aspect of the project is meticulously planned and executed to provide a superior living experience for residents. The lush green surroundings and scenic views further enhance the appeal of the Kumar City location. With ample open spaces and well-maintained landscapes, residents can enjoy a tranquil and refreshing environment away from the hustle and bustle of the city. The project's thoughtful planning ensures that every corner of Kumar City is designed to promote a sense of peace and harmony.
The availability of different unit types in Kumar City allows homebuyers to choose according to their specific requirements. Whether you're a young professional looking for a cozy 1 BHK apartment, a small family needing a comfortable 2 BHK unit, or a larger family searching for a spacious 3 BHK home, Kumar City has options to suit your needs. Moreover, for those who desire the freedom to build their dream home, the plots available in the township offer endless possibilities.
Manjri, the location of Kumar City, is witnessing rapid development and growth. It is becoming a preferred residential destination for its serene atmosphere and excellent connectivity. The area's proximity to major employment hubs and educational colleges makes it an excellent choice for working professionals and families with school-going children. Additionally, Manjri's thriving infrastructure and availability of essential amenities ensure a convenient and comfortable lifestyle for its residents. Kumar City's proximity to various social and civic amenities adds to its allure. Residents can easily access renowned educational institutions, such as schools and colleges, ensuring a quality education for their children. The presence of healthcare facilities, including hospitals and clinics, within a short distance provides peace of mind in case of any medical emergencies. Shopping malls, supermarkets, and entertainment centers are also within reach, offering ample opportunities for recreation and leisure.
Kumar City's location is a dream come true for those who enjoy exploring nature's beauty and indulging in outdoor activities. The nearby natural attractions, such as hills, parks, and riverside promenades, offer opportunities for picnics, trekking, and rejuvenating walks. Residents can enjoy a healthy lifestyle amidst nature's splendor.
In conclusion, Kumar City Pune is a unique residential project that offers a harmonious blend of apartments and plots in a prime location. With its thoughtful planning, excellent connectivity, lush green surroundings, and proximity to essential amenities, Kumar City provides an ideal living experience for individuals and families alike. The project's commitment to quality and the trusted name of Kumar Properties ensures that Kumar City is a testament to luxurious and comfortable living in Pune.
Frequently Asked Questions
1.
What is the exact location of this Kumar City?
The proposed residential developmental project's location is Manjri, Pune.
2.
Which are the nearest landmarks close to Kumar City?
Once the property location is known we could figure out the closest landmarks to the property.
3.
How far is the location from Pune International Airport?
The Property is 16.3 kms away from the Pune International Airport